Praying Mantis (Stagmomantis carolina).
| | |
| --- | --- |
| Taxonomy: | |
| Kingdom: | Animalia |
| Phylum: | Arthropoda |
| Sub-Phylum: | Tracheata |
| Class: | Insecta |
| Sub-Class: | Pterygota |
| Super-Order: | Dictyoptera |
| Order: | Mantodea |
| Sub-Order: | - |
| Family: | Mantidae |
| Sub-Family: | Stagmomantinae |
| Tribe: | Stagmomantini |
| Genus: | Stagmomantis |
| Species: | carolina |
| Year: | 1763 |
| Distribution: | Mexico, Nicaragua, Central-Southeastern USA, Panama, Trinidad, Venezuela, Belize, Costa Rica, French Guyana, Guatemala. |
Adults get about 3.5cm. This specie is variable in color and camouflage and is very hardy. You can get pure green, tan, gray, bark colored and almost black specimens emerging from the same ootheca. Both sexes are quite active until the last few instars.
Their ootheca is laid upon a flat enough surface, it has a slightly squashed look and is wider, but will contain the same number of eggs. The ootheca is about 15-25mm long and can contain from 20- 60 nymphs. It is also is covered with a small insulation layer. As the winters in this species range can become quite severe (-30C or more), is seems apparent that this layer insulates from radiant heat rather than cold. A healthy ootheca has a clear light brown to grayish appearance with a nicely round-shouldered shape. An ootheca laid by an infertile female will be greatly malformed, with a "melted plastic" sort of look.
Diet: Diurnal insects, Drosophila, houseflies, crickets, flour worms, caterpillars, butterflies, bees. The feed must be very diversified. To the newly hatched larvae must be promptly offered Drosophila flies.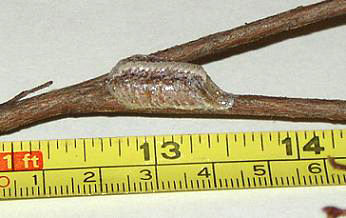 Ootheca.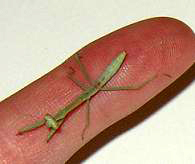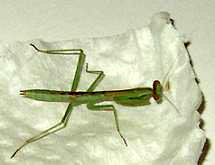 Few weeks old nymph.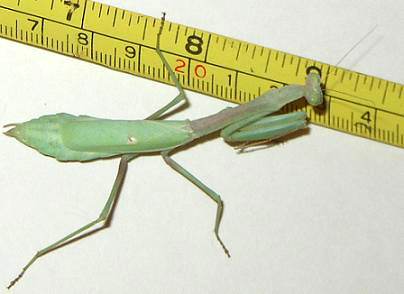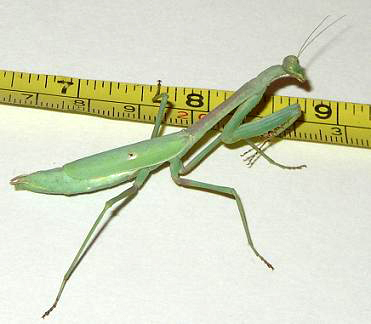 Green adult female.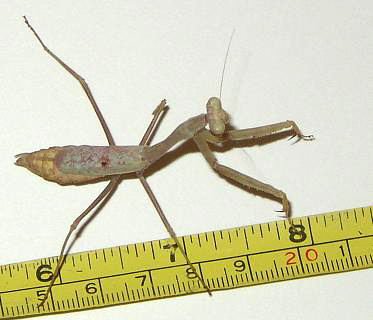 Brown adult female.
Special thanks to Richard from http://www.timeimage.com for these clips (this is the same mantis that i took pictures of on the top of the page).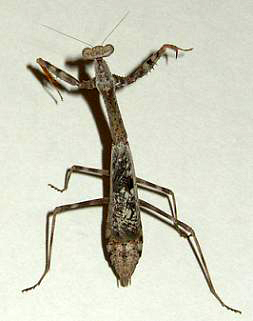 \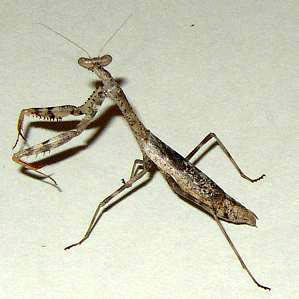 Dark brown adult female.