Stick Bug (Pseudodiacantha macklotti, currently known as Orxines macklotti) (PSG-2)
| | |
| --- | --- |
| Taxonomy: | |
| Kingdom: | Animalia |
| Phylum: | Arthropoda |
| Class: | Insecta |
| Sub-Class: | - |
| Order: | Phasmatodea |
| Sub-Order: | Anareolatae |
| Family: | Heteronemiidae |
| Sub-Family: | Necrosciinae |
| Genus: | Orxines |
| Species: | macklotii |
| Year: | - |
| Distribution: | Java. |
Both male's and female's wings are reddish-orange with brown stripe along the edges, and white spots inside the brown stripe. Ova takes 4 month to hatch. They should be kept at 22°- 25°C. The nymphs take 5 month to mature.
Nymphs shoulld be raised on preferably Rhodedendron, but Hypercium sp. (st johns wort) is fine too. Only adults will eat Bramble.
Females: get 2 3/4 inch (7cm) long.
Males: get 2- 2 3/8 inch (5 to 6cm) long.
Diet: Rhododendron, Azalea, Bramble, Ferns (a little bit), Hypercium sp. (st johns wort).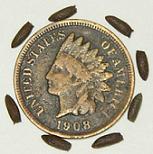 Ova.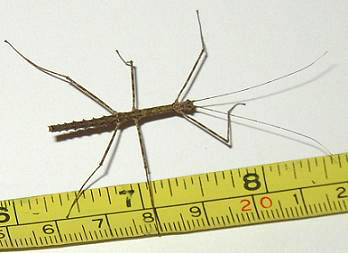 Subadult male.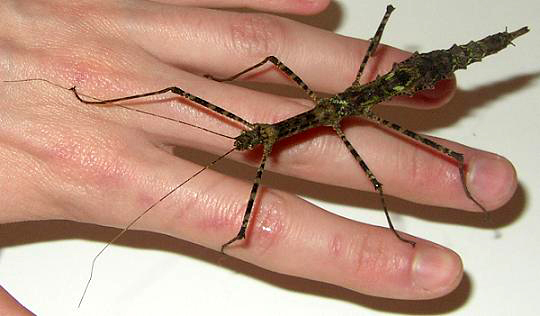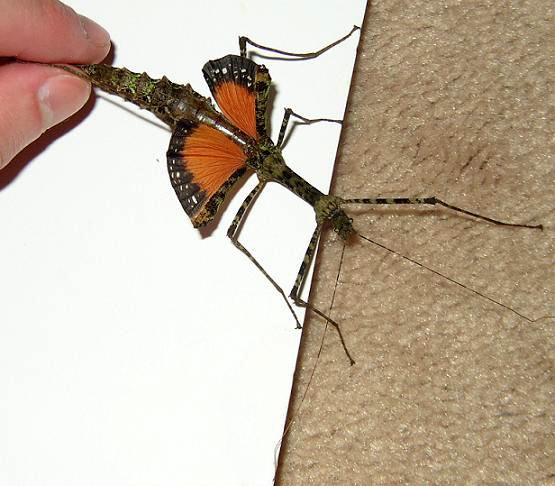 Adult female.