Stick Bug (Monandroptera acanthomera) (PSG-Not Yet Listed?)
| | |
| --- | --- |
| Taxonomy: | |
| Kingdom: | Animalia |
| Phylum: | Arthropoda |
| Class: | Insecta |
| Sub-Class: | - |
| Order: | Phasmatodea |
| Sub-Order: | |
| Family: | |
| Sub-Family: | |
| Genus: | Monandroptera |
| Species: | acanthomera |
| Year: | - |
| Distribution: | ? |
Ova take 5- 6 months to hatch. It is very important to keep this specie in well ventilated cage, but misting them twice a day. At day, they should be kept at 25-26°C. At night, it can go as low as 15-18°C. In nature, adults will go to the very top of the tree for extra ventilation! For the nymphs, at least couple of kinds of food should be offered to as some are known not to accept Ficus. Expect to loose lots of nymphs at L1 if not fed on a wide variety of food. This is a similar species to Rhaphiderus spiniger.
Females: get 13- 14 cm long. Adults usually lay 3-6 ova per day, but are known to lay as many as 10 ova per day.
Males: get 13 cm long.
Diet: Ficus mauritiana and other Ficus trees, Guava, Eucalyptus, Gaultheria (they seem to really like it), Millepertuis, Wild Rose (they seem to really like it), Oak, Bramble?.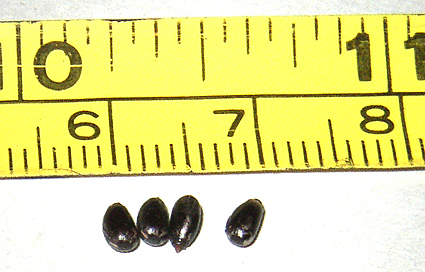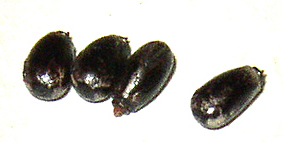 Ova.