Guadeloupe Stick Bug (Lamponius guerini) (PSG-101)
| | |
| --- | --- |
| Taxonomy: | |
| Kingdom: | Animalia |
| Phylum: | Arthropoda |
| Class: | Insecta |
| Sub-Class: | - |
| Order: | Phasmatodea |
| Sub-Order: | Anareolatae |
| Family: | Phasmatidae |
| Sub-Family: | Bacteriinae |
| Genus: | Lamponius |
| Species: | guerini |
| Year: | - |
| Distribution: | Guadeloupe (Island). |
L. guerini are sexual. These are very active stick-insects when held, and don't seem to mind it at all. The nymph are 1cm to 1.5cm, dark brown. Incubation takes 4 monthes at 25°C, in a slightly moist atmosphere. The egg is 4mm long, with a 2mm diameter.
Females: get 8-9cm long. Their white on brown coloration is selected adaptation which mimics bird-droppings. They laying about 2 eggs per days.
Males: get 7-8cm long. The body is rather cylindric. Antennas are 4 cm long. The head bears 8 small spines on its back part. Legs are green brown
Diet: Bramble, Ivy, Oak, Pear, Raspberry, Red maple, Rose, Eucalyptus.
Status: with some luck, should have some ova available in 3- 4 month.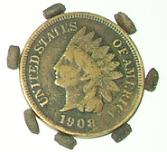 Ova.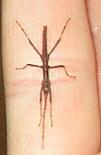 One day old nymph.