Giant Stick Bug (Eurycnema goliath) (PSG-14)
| | |
| --- | --- |
| Taxonomy: | |
| Kingdom: | Animalia |
| Phylum: | Arthropoda |
| Class: | Insecta |
| Sub-Class: | - |
| Order: | Phasmatodea |
| Sub-Order: | Anareolatae |
| Family: | Phasmatidae |
| Sub-Family: | Phasmatinae |
| Genus: | Eurycnema |
| Species: | goliath |
| Year: | - |
| Distribution: | Australia. |
The following is a chart that I made to help shed some light on the growth rate of each phasmid, and eventually gather enaph information to compare and see if it differs between Males and Females and between other species. This also tells me that at L4- L5 E. goliath should be on Eucalyptus or other highly nutritious plat as their exoskeleton will almost double in size!
The following is information on the Male E. goliath. I was not able to record the length of L1- L3 nymph, so hope to do so next time :)!
| | | |
| --- | --- | --- |
| Stage of the Male Phasmids: | Current length of particular Instar: | E. goliath growth rate: |
| L4 | 76mm long. | |
| L5 | 111mm long. | 46.05% longer then at L4. |
| L6 | 134mm long. | 20.72% longer then at L5. |
| L7 (adult) | 152mm long. | 13.43% longer then at L6. |
E. goliath are the second largest stick insect in Australia. They should be kept at 20- 25°C, although can be kept at as low as 17°C for short amount of time. Ova takes 5- 6 month to hatch. Nymphs take 4- 6 month to mature. They rarely eat Bramble, although some times they will still accept it. Eucalyptus is usually quite easy to come by during summer time, from Garden Center. It usually is sold for under $5.00 per 2 feet long tree.
Females: get 17- 20cm long, with 2.5cm long antennas.
Males: get 13- 15cm long. Males become adults on the 7th molt.
Diet: Eucalyptus, Bramble (rerely) , Acacia, Millepertuis (like Millepertuis perfore etc.).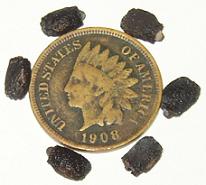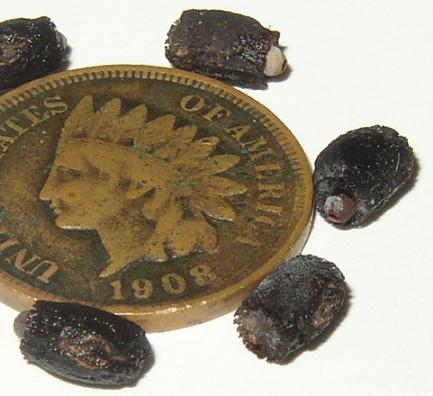 Ova.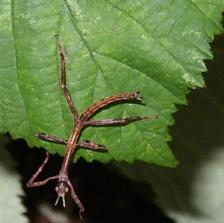 One day old nymph.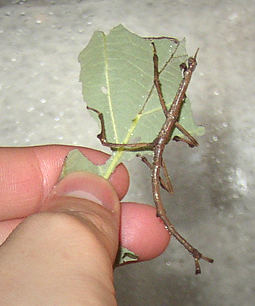 L3 nymph.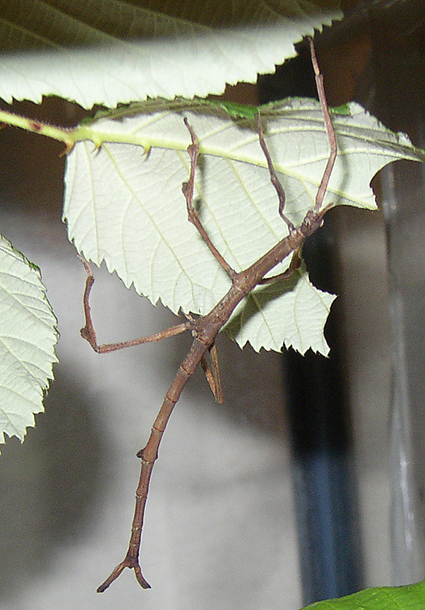 L4 nymph. At this point, it is 3 inches (76mm) long.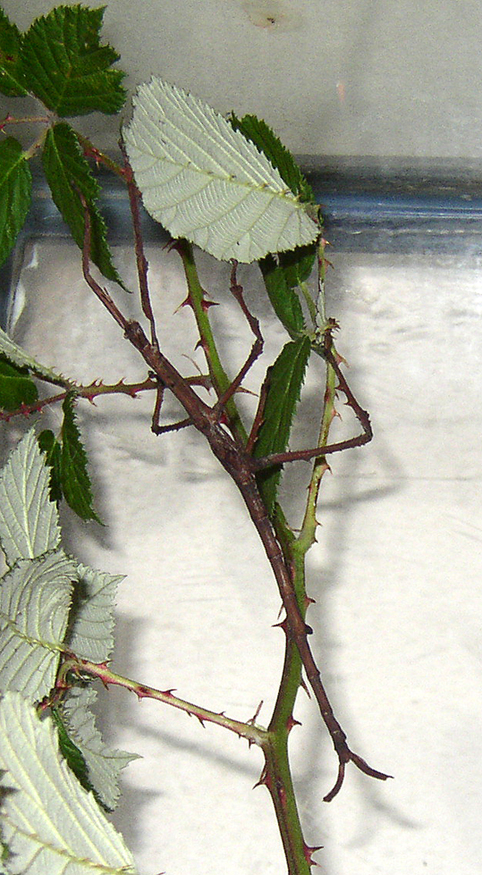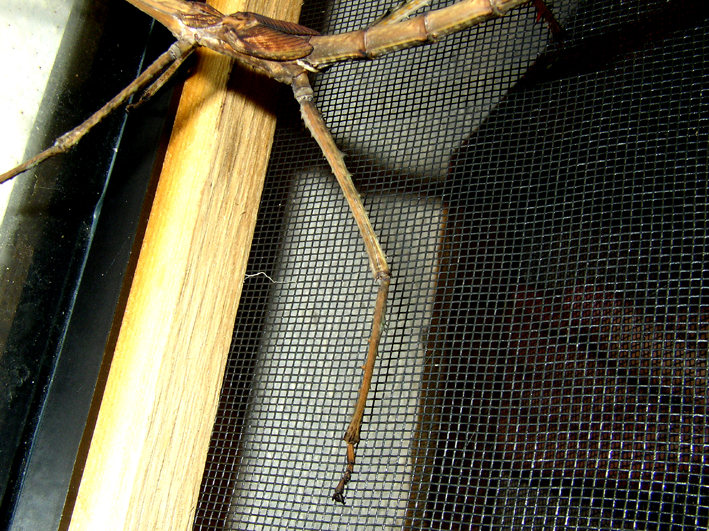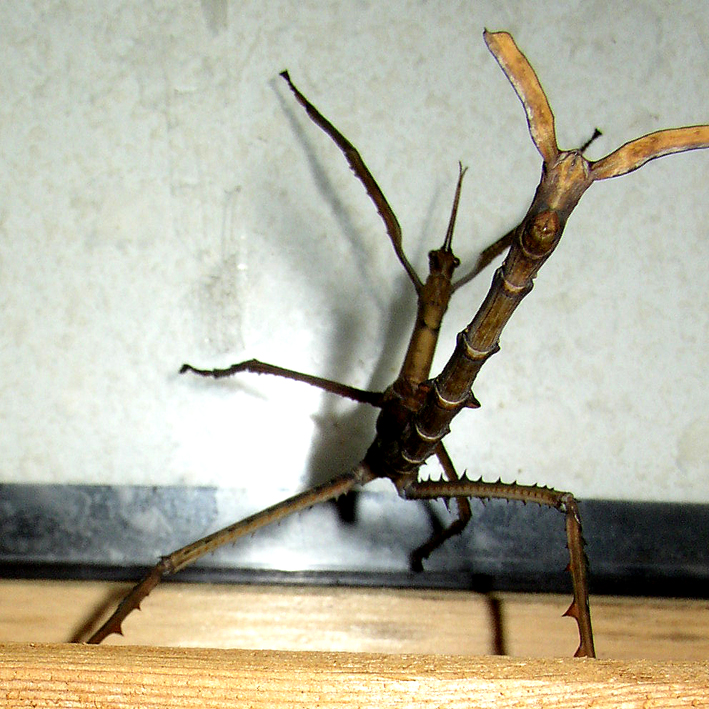 L5 nymph. At this point, it is 4 3/8 inches (111mm) long.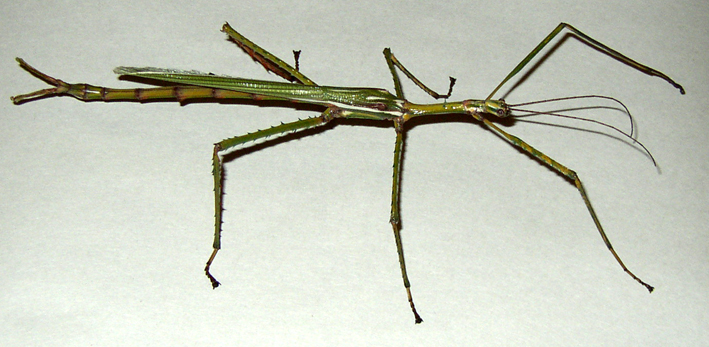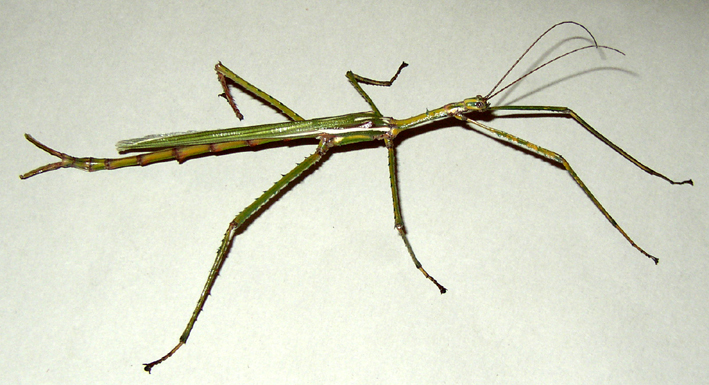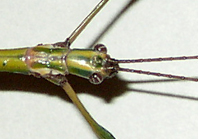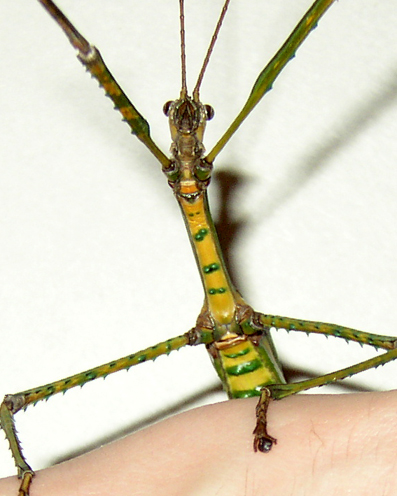 Adult male.