Southern Walking Stick (Anisomorpha monstrosa) (PSG-112)
| | |
| --- | --- |
| Taxonomy: | |
| Kingdom: | Animalia |
| Phylum: | Arthropoda |
| Class: | Insecta |
| Order: | - |
| Family: | Pseudophasmatidae |
| Sub-Family: | Pseudophasmatinae |
| Genus: | Anisomorpha |
| Species: | monstrosa |
| Year: | - |
| Distribution: | Belize amd Mexico. |
Ova take 3- 4 months to hatch. Nymphs will reach maturity after 4- 6 months. They should always be offered a variety of leafs, besides only Bramble. They should be kept at 20- 30°C. This is a more hardier specie then that of an Anisomorpha buprestoides. This specie was imported from Belize and are becoming more common on the Gulf coast.
Caution: These Phasmids are sprayers, if liquid will get into human or animal eyes, it may cause temporary blindness or even chemical burning of cornea and painfully irritating if inhaled. This is accomplished by a pair of meta-thoracic defense glands located on top of the thorax. In the case of an accident, immediately wash the eyes with sterile saline or at least water and consult a doctor or eye professionals. If not treated immediately, there have being a case of a dog getting corneal ulcers.
Females: get 6- 7 cm long.
Males: get 4- 4.5 cm long.
Diet: Bramble, Liguster, Privit, Ficus benjamina.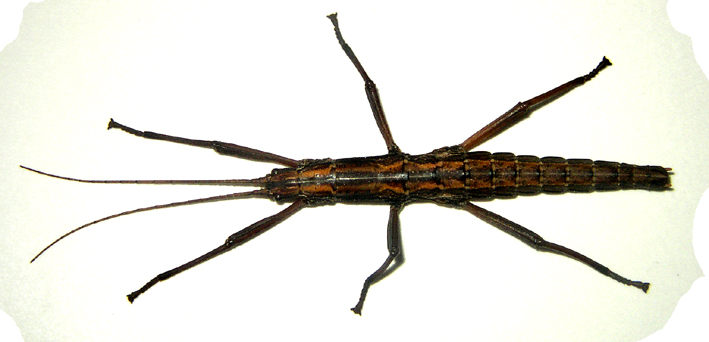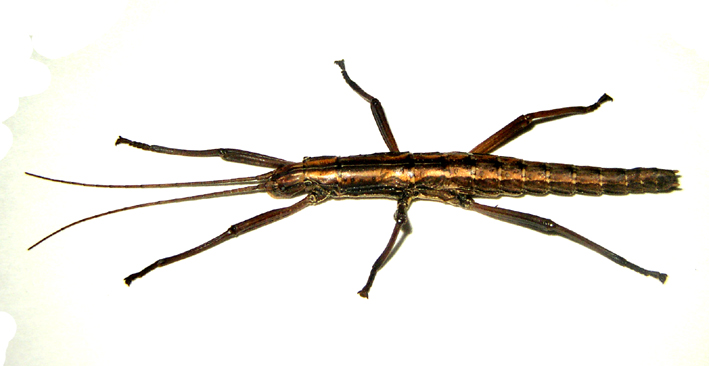 Medium size nymph.